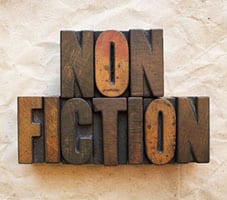 Nonfiction Genres – How many genres of nonfiction are there, and what are the correct definitions for each of them? Find out here using our Book Genre Finder. Click on the nonfiction genre links below for detailed definitions and examples. Or click here to see all Fiction Genres and Book Genres for Kids.
Books that fit into nonfiction genres are made up of prose writing based on facts, real events, and real people. Books in nonfiction genres are based on true facts and information. They are narrative accounts or other communicative works that impart knowledge or information to the reader.
* * *
Nonfiction Genres – Book Genres
Book Genre Dictionary | Nonfiction Genres
Click here to view Nonfiction Genres (M-Z).
A-L
[ezcol_1half]
[/ezcol_1half]
[ezcol_1half_end]
Inspirational Nonfiction Genre
Investigative Nonfiction Genre
[/ezcol_1half_end]